DANCE
DJ HITO
DJ SAYAKA ARAKI
Drunken Kong
DUBAI
JAPANESE BEER
KEN ISHII
KIMONO
Mika Kitten
MUSHIGA
SAKE
SOHO GARDEN DXB
TWENTY TWENTY
WATARU
ダンス
ドバイ
ドバイイベント
ドバイクラブ
国際交流
文化交流
日本
日本のおもてなし
日本のビール
日本酒
着物
Thank you all so much to everyone who joined us for our first TWENTY TWENTY event at Soho Garden DXB. Until next time!
JWD presents Twenty Twenty w/ Ken Ishii, Hito, Drunken Kong After teaser
Get ready for the first ever "TWENTY TWENTY" event in Dubai! Consisting of an all Japanese team of DJs and dancers, who all have a huge fan base not only locally but globally.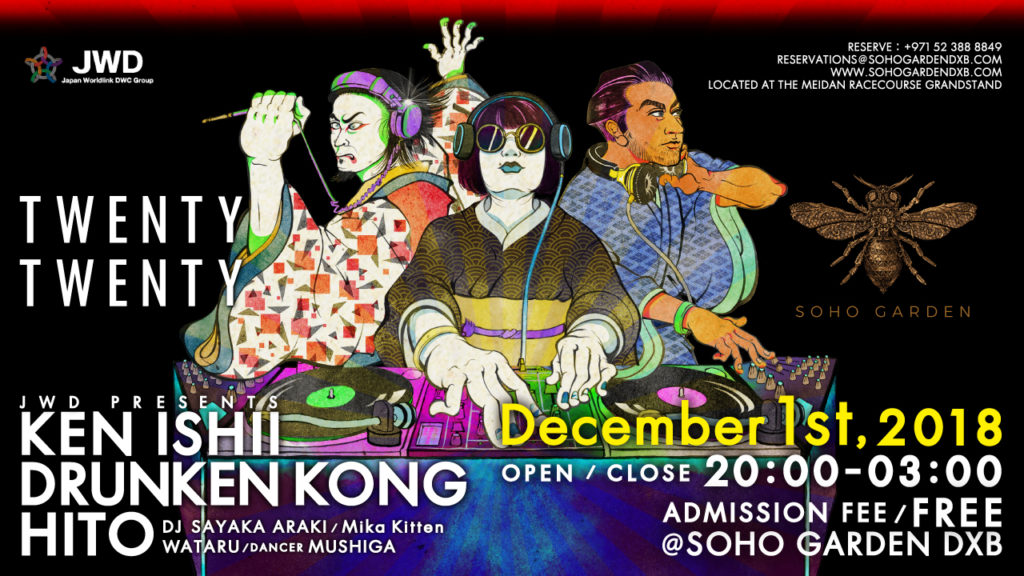 Headlining the event will be the legendary KEN ISHII, who is known as the "Techno music God of the Far East".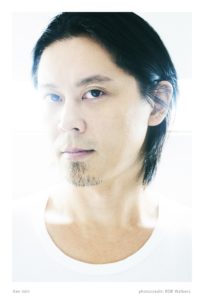 Joining KEN will be the Berlin-based talented DJ HITO, who is also the resident DJ for superstar DJ Richie Hawtin's popular Ibiza Event "ENTER" which has a Japanese cultural twist.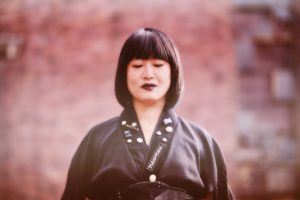 Another big member for this event will be the Europe-based popular DJ DRUNKEN KONG. With constant releases on labels like Tronic and Terminal M, he will surely get the party going.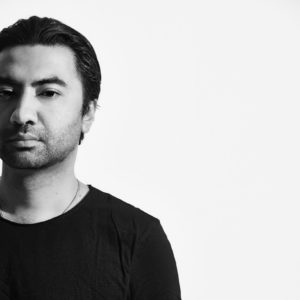 Supporting this crew, we have the charismatic team; DJ SAYAKA ARAKI, WATARU, Mika Kitten, and dancer MUSHIGA, who are all currently hugely in demand both locally in Japan and worldwide.
During the event, in promoting our culture, we will be serving a variety of Japanese sake & beer, kimono and the "omotenashi" hospitality. This party event "TWENTY TWENTY" will be another significant step towards further strengthening our friendship between UAE and Japan.
TITLE : TWENTY TWENTY
DATE : December 1st, 2018
OPEN / CLOSE : 20:00-03:00
PLACE : SOHO GARDEN DXB
PLACE URL:https://sohogardendxb.com/sohogarden/
ADMISSION FEE : FREE
MAIN FLOOR DJ : KEN ISHII / Drunken Kong / HITO
SECOUND FLOOR DJ : DJ SAYAKA ARAKI / Mika Kitten / WATARU
DANCER : MUSHIGA
---
2018年12月1日の国際交流クラブイベント 「 TWENTY TWENTY 」は、全ての出演者を日本人で構成してあり、 国内外問わず世界で活躍するDJとダンサーがこの日の為にドバイに集結します。
ヘッドライナーには、東洋の TECHNO GOD とも呼ばれる、KEN ISHII。
そして、スペインの IBIZA島で開催された、リッチーホーティン主催 ENTER のレジデントDJとして日本カルチャーを見事に融合した、ベルリンを拠点とする実力派 DJ HITO。
国内を飛び出し、 今やヨーロッパを中心に日本人離れしたグルーヴィーなセットで人気をはくすDRUNKEN KONG。
その他、DJ SAYAKA ARAKI、WATARU、Mika Kitten、ダンサーのMUSHIGAと、国内外問わず活躍している日本人アーティストがこの夜を盛り上げます。
日本とドバイと世界の友好の架け橋となる「TWENTY TWENTY」当日は日本酒、日本のビール、着物、日本のおもてなしなどをテーマにし、参加者全てを心からもてなす素晴らしいパーティーとなるでしょう。
タイトル : TWENTY TWENTY
日時 : 2018年12月1日(ドバイ現地時間)
オープン / クローズ : 20:00-03:00
場所 : SOHO GARDEN DXB
アクセス:https://sohogardendxb.com/sohogarden/
料金 : 無料
メインフロアDJ : KEN ISHII / Drunken Kong / HITO
セカンドフロアDJ : DJ SAYAKA ARAKI / Mika Kitten / WATARU
ダンサー : MUSHIGA